Many have heard the iconic "Rawhide" inspired jingle over the thirty-plus years Rosen has been in business. Founded in 1989 by Saul Rosen, Rosen Motors started with a Nissan dealership on S. 27th St. in Milwaukee. Over the years since the Rosen brand has expanded and become one of the premier auto groups in the midwest.
The group has carried brands including Honda, Hyundai, Kia and more.
Scott Levy joined the team at its beginning in 1989. In 2002 he became Vice President and General Manager of Rosen Motors Group. Then in 2015 he ascended to President of Rosen Auto Group.
In fact Scott Levy's Rosen Auto Group includes Rosen Hyundai of Algonquin, an early Hyundai store in the area opening in the late 1990s. Since then, Rosen Algonquin has served its community along with the surrounding area with an expansive inventory of new, used, and certified pre-owned vehicles. Dominick Logan has been leading the team at the dealership as General Manager since 2015. In 2017, the location opened their Genesis of Algonquin dealership, offering luxury Genesis vehicles including the G70 and G80.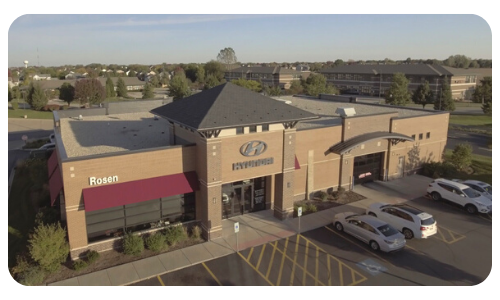 Rosen Algonquin has also been extremely involved in the community by participating in numerous charities and organizations. They are a member of the Algonquin Lake In The Hills Chamber of Commerce. Over the years they have supported causes  including Hope on Wheels, Canines 4 Comfort, Jessie White Golf Outing, and many more.
Recently, Rosen Auto Group opened a new Hyundai dealership location in Kenosha, WI. Rosen Hyundai of Kenosha is managed by Josh Ihmoud. Josh grew up in Elmwood Park, IL and has been in the automotive industry for over 20 years. The dealership is excited to grow closer with the Kenosha community and serve them for years to come.