Rosen Express | Shop Hyundai & Genesis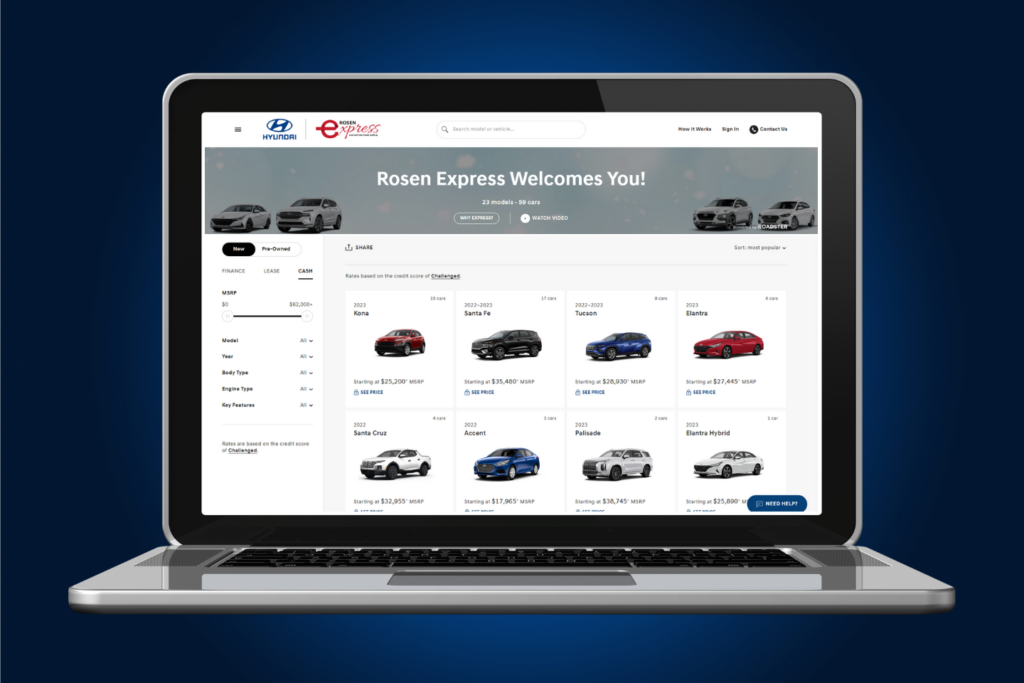 Buying a car has never been easier. Gone are the days of having to go to a dealer, talk to a dealer, and test driving the vehicle beforehand.
What if you'd like a car as soon as possible? Or you want the convenience of buying in the comfort of your home.
With Express Checkout, car buying can be done in a matter of minutes!
Keep in mind that while the steps may be slightly different between Hyundai Algonquin and Kenosha, the result is the same – Rosen Express checkout helps make car buying simple.
Step 1: Choose a Model
Select a model from our inventory or build your custom car. Add accessories, upgrade trim levels and customize your car exactly how you want it. Speak with a sales consultant any time, and they'll help answer questions or guide you along the way.
Step 2: Receive Instant Pricing
Unlock instant pricing. You'll get the best possible deal and financing options available guaranteed. If you have a car you'd like to trade in, we'll make an instant cash offer on your car. Before you commit to buying the car, you'll receive every detail about the purchase, including the financing terms, cash, and lease alternatives.
Step 3: Trade-In Value
If you are planning to trade in your vehicle, you'll receive a firm offer within three business hours. Once the trade-in offer is given, we'll update the purchase details and notify you about the offer. The trade-in offer stands with or without a car purchase.
Step 4: Complete a Credit Application
With every car purchase, we require all customers to complete a credit application and upload their insurance card and driver's license. Even cash buyers must fill out a short form as part of federal requirements.
Step 5: Get Approved
Once you're approved, you'll need to review and accept the deal sheet given based on your credit. Once accepted, you're ready to receive your new car!
Step 6: Pick Up Your New Car or Have It Delivered
Choose to pick up your car at the dealership or have it delivered straight to your home. If you prefer to have it delivered, a delivery specialist will drop off the car right at your doorstep. They'll help you get set up with the Bluetooth phone connection and walk you through how to use any special features in your car.
If you opted for a trade-in, the specialist would also collect that too. You're all set, and now the car is yours!
---
Upfront Pricing Guaranteed
At Rosen Hyundai, we value your experience. That's why we guarantee transparent and upfront pricing before you make any commitment to purchase. We'll provide you with all the details of the car, so there are no surprises. Get everything you need all within the comfort of your own home.
Find Your Next Car Online at Rosen Auto Group
If you're searching for a Hyundai or Genesis dealer near me, look no further than Rosen Auto Group. We offer an Algonquin and Kenosha Hyundai dealer so that you can choose the dealer closest to you.
With our Express Checkout at Rosen Hyundai, you can shop on your terms, in your time. No more waiting in line to talk to a sales rep or driving out of your way to see a dealer. Get the car you need at your doorsteps.