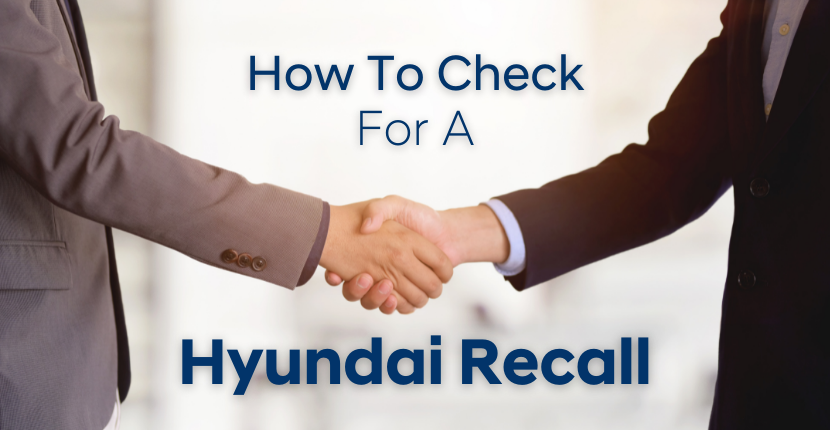 At Rosen Auto Group, we're committed to make your car buying experiences as easy and simple as possible. That's why we've created our new Hyundai Recall website. We always want to make sure you have the latest information about your vehicle since recalls can be a safety issue. Visit any of our Rosen Auto Group dealers — Genesis of Algonquin, Rosen Hyundai Algonquin, and Rosen Hyundai Kenosha — to learn more about how to easily check your vehicle's recall status! 
How to Check for a Recall
On our new easy-to-use website, you can check for a recall on your vehicle and more. The VIN search tool allows you to:
Lookup Safety Recalls and Service Campaigns by VIN
Access to Information on the repair remedy
Schedule an appointment online to help minimize any inconvenience
All you have to do is enter your vehicle's 17-digit Vehicle Identification Number (VIN)! You'll get information provided as far back as 08/20/1986.
Finding Your Vehicle's VIN
A Vehicle Identification Number (VIN) is a unique 17-character serial number used to identify individual motor vehicles. There are several places you can find your vehicle's VIN. Here's some examples. You should check: on driver's side dashboard, inside driver's side door jamb, the vehicle insurance card, and the vehicle title record (pink slip).
We'll Cover Your Repairs!
When you use our VIN search tool and find information on the repair remedy for your vehicle, Rosen Hyundai will complete the repairs FREE OF CHARGE. You can schedule this maintenance at any of our service departments now!
Our team of qualified technicians ensures a thorough and quality inspection of your vehicle's needs. Our service experts handle all of your needs professionally. From oil changes, tire rotations, brake pads, transmission problems, ordering parts, and more, you can trust our team.
To schedule a service, simply pick the location of your choosing on our website and our easy to use online tools will help you set up an appointment and get your vehicle running like new. We are happy to serve the Milwaukee, Greenfield, and Madison, WI areas.
Visit Rosen!
The team at Rosen Automotive Group would like to welcome you to our dealership family in Wisconsin, where we're confident you'll find the vehicles you're looking for at a price you can afford. Come and check out our full selection of new vehicles or get a great deal on a reliable pre-owned model. Our professional finance team will help you get settled with a competitive financing or lease plan, no matter what vehicle you choose. So visit our website to learn more about how to do a quick and easy Hyundai Recall Check now!