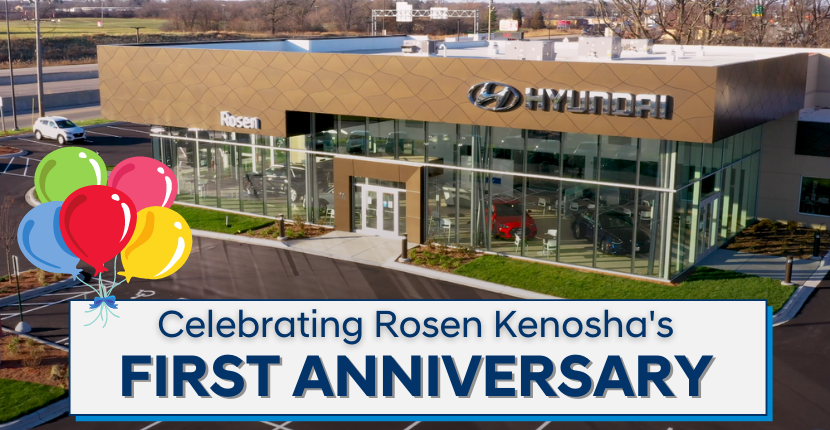 Rosen Hyundai of Kenosha is celebrating its first anniversary! We can hardly believe it! We've been so glad to be part of the Kenosha community, and appreciate meeting every new face that has walked through our door. We've served over 10,000 happy customers just in our first year. When you visit Rosen Kenosha you can count on a great car buying experience.
Rosen History
Saul Rosen founded Rosen Motors with a Nissan dealership on S. 27th St. in Milwaukee in 1989. Over the years the Rosen Auto Group has carried brands including Honda, Hyundai, Genesis, Kia, and more. How far we've come! You may know the Rosen Hyundai name from our location in Algonquin, IL, our other premier dealership. Whichever location you are visiting, know that you are working with a dealer that truly values our customers.
When the opportunity arose to offer Hyundai vehicles in Kenosha, we knew it was time to spread the word about the Rosen Promise even further. You may be wondering, "What's the Rosen Promise?" That's easy! We have made a series of dedicated promises to our customers, with one primary guarantee. We promise honest, up-front pricing on all our vehicles and services. No tricks, no gimmicks!
New Dealership, Trusted Name
Our Kenosha location is a state-of-the-art facility. The building was constructed specifically for Rosen Hyundai! When you walk through our doors you can trust everything has been built with your comfort and security in mind. We've built relationships with our loyal employees and customers over the course of many years. Rosen Hyundai is a trusted name. If you're looking for a "Hyundai dealer near me," know that there is no better place to look than Hyundai Kenosha!
Rosen Hyundai Kenosha Reviews
But don't just take it from us! Here are a few reviews from loyal customers:
"Frank Pelini sales professional at Rosen Hyundai Kenosha had made our car buying experience amazing and easy. Professional, courteous and down to earth. The dealership is beautiful. Clean. Impeccable. I would give 10 stars if I could. Drove 1 and a half hours to buy and will continue to drive for service. Well worth it!!!"
-Veronica M.
"Ask for Frank! I will start by saying I used to work in the car business, so I have very little patience when it comes to buying a car because I know all the games. My wife and I went in to purchase a new vehicle on a Saturday. Frank was awesome. He took the time to learn a little bit about what she was looking for and made a recommendation. We drove a couple cars and found the one she really liked.

Their first offer was an amazing deal. No back and forth. No bringing in the manager to close. Transparent and straight forward. The finance guy was amazing. We were laughing and joking through the whole transaction. Swapping "war stories" of being in the car biz.

This was truly the best experience I have ever had buying or selling a vehicle. I recommend this dealership and especially Frank to every single person I know!"
-Jeremy B.
"FABULOUS place; first rate service every time. Great deals on new cars. Keep up the Great work!!! VERY pleased with these Folks; recommend anytime!!"
-Rich L.
Visit Rosen Kenosha Today
Whether you're in the market for a new or used Hyundai, we've got you covered. We have one of the largest selections of Hyundai vehicles in the area. Our expert staff will be glad to help you find the car of your dreams. In need of auto maintenance? We have plenty of service professionals at our Certified Service Center that can get all of your vehicle needs taken care of. You can schedule a service appointment, browse inventory, or schedule a test drive all on our website. So visit us today!