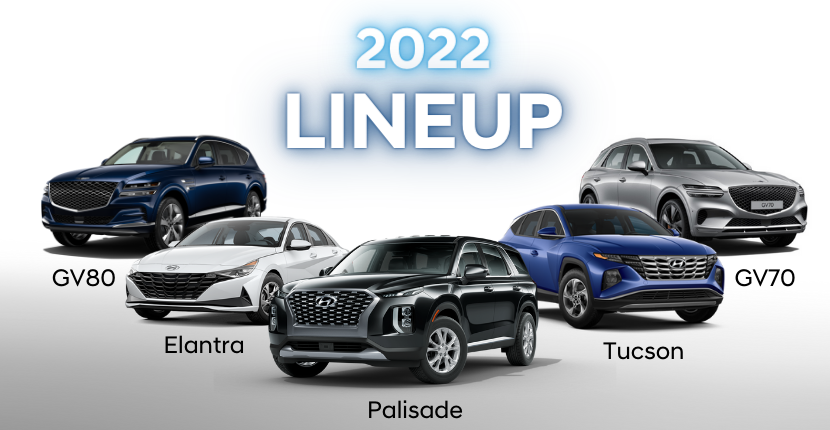 At Rosen Auto Group dealers, you'll find all of the top Hyundai and Genesis models available now. Even if you don't see it on our lot, we can find whatever vehicle you want. We can help you figure out exactly what you want and find the vehicle for you. Reserve your new Hyundai or Genesis today!
2022 Genesis GV70
The 2022 Genesis GV70 is the new boldface of luxury SUVs. With a distinctive appearance, high performance, and unbeatable comfort, the Genesis GV70 is unique and unlike any other on the road. On top of all that, it's loaded with tons of premium features and technology in a fashionable combination offered at a surprisingly affordable price.
Named MotorTrend's 2022 SUV of the Year, the first-ever GV70 is here to satisfy your cravings, needs and wants. Featuring incredible performance, athletic styling and advanced technology, this SUV proves that in the end, want wins. The Genesis GV70 price starts at just f $41,000 and has amazing fuel efficiency at an EPA-estimated 22 mpg city and 28 mpg highway
2022 Genesis GV80
Ruggedly luxurious, the 2022 Genesis GV80 pushes the limits of style and performance. With a full suite of intuitive technology, all-road capability, elevated comfort and showstopping design, the multifaceted SUV ushers in a new era of world-class adventuring. A high-quality performance vehicle, the GV80 is the crown jewel of luxury for the Genesis brand.
Ignite your inner explorer with the GV80. It is equipped with high-performance capabilities that make for fun, powerful, and truly dynamic driving on or off road. Experience the thrill of the available 3.5L Twin-Turbo V6 with 375 horsepower or enjoy the seamless power of the standard 2.5L Inline 4 Turbocharged engine. Either way, GV80 confidently delivers balanced and powerful performance for sheer driving pleasure.
2022 Hyundai Tucson
The all-new 2022 Hyundai Tucson is built for modern adventure. It's the defining answer after our engineers and designers asked how we can make a great SUV even greater. Hyundai questioned every detail. Every assumption. It has a daring new look inside and out, is outfitted with available HTRAC All-Wheel Drive, and has game-changing technology and safety. So without question it's Hyundai's best Tucson ever.⁠
Combining a premium SUV experience with an affordable price, the 2022 Hyundai Tucson starts at just $25,800 on the SE model. With eleven trims between the bottom and top, you're sure to find the perfect Tucson for your taste and budget. The 2022 Hyundai Tucson is an all-new take on the brand's well-known compact SUV. New upgrades to the vehicle's technology, connectivity, and styling means the newest model is taking a big leap. It will also now include Hyundai's 10-year/100,000-mile powertrain warranty.
2022 Hyundai Palisade
The 2022 Hyundai Palisade defines modern elegance in an upscale SUV. Featuring three rows of seating, it's a no-brainer for drivers that spend a lot of time on the road with their family. But it's not only about being ultra-stylish for the Palisade. It is also about making sure your family is safe. There are many safety features that come standard on the Palisade to ensure your peace of mind. For example, it features Blind-Spot Collision-Avoidance Assist, Rear Occupant Alert, Lane Keeping Assist, Safe Exit Assist, and Driver Attention Warning. The Palisade is uncompromising in the best way possible. From space to connectivity to capability, you can rely on your Palisade.
2022 Hyundai Elantra
Bold inside and out, the all-new 2022 Hyundai Elantra is transformed and loaded with technology. With a full spectrum of choices for power and efficiency, the Hyundai Elantra interior takes the spotlight with a giant leap into modern style and intelligent innovation. Hyundai's first hybrid bringing a whopping 50+ mpg, the 2022 Elantra offers a bold new take on sedans. It's why the Elantra is an American favorite.
The Rosen Difference
Looking for the vehicle of your dreams? We've got you covered at Rosen Auto Group! Our goal when you visit our new Hyundai dealership is to provide you with a superior experience satisfying your needs. Experience the Rosen difference when you shop or service with us! Shop our top 2022 models in store or reserve online today! So, what are you waiting for?